October 12, 2023
 Uses real data
 20 hours (12h online; 8h live)
 CE, certificate
 $400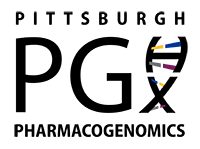 Our 20-hour certificate program enables learner to apply implement pharmacogenomics in practice by using real genetic data in highly-interactive exercises with an optional activity for learners to undergo personal genomic testing.  
The competency-based education is comprised of 12 hours of self-paced (home) study modules that unlock automatically with course progression and 8 hours of Zoom live training led by faculty experts from the University of Pittsburgh and UPMC. Upon completion, a certificate, micro-credential. (digital badge), and continuing education can be awarded.   
---
REGISTRATION AND ACTIVITY FEES
$400 – Test2Learn Pharmacogenomics Certificate program

Optional personal genomic testing is available for $99+shipping (available within the course following registration)
To register, log in (top right of this page) and then enroll below.
About Test2Learn

Test2Learn
TM
is an award-winning training approach where you can work with real genetic data to learn pharmacogenomics. You can experience personal genomics testing just like your patients or work with anonymous data.  Interactive exercises and real world cases increase the fidelity of education and make training fun.  Learn all about our learning outcomes by clicking on the logo to the left. 
Faculty


Philip Empey, PharmD, PhD,  FCCP
Associate Director, Institute of Precision Medicine;
Associate Professor, Pharmacy and Therapeutics,
University of Pittsburgh School of Pharmacy
Faculty profile



James Coons, PharmD, FCCP, FACC, BCCP
PGY2 Cardiology Residency Program Director;
Professor, Pharmacy and Therapeutics,
School of Pharmacy, University of Pittsburgh
Faculty profile


Lucas Berenbrok, PharmD, MS, BCACP, TTS
Associate Professor, Pharmacy and Therapeutics,
School of Pharmacy, University of Pittsburgh
Faculty profile
Conflict of Interest Disclosure

No planners, members of the planning committee, speakers, presenters, authors, content reviewers and/or anyone else in a position to control the content of this education activity have relevant financial relationships to disclose.
 
Schedule
HOME STUDY
Self-paced, online (to be completed in advance of the live program date)


---
FACULTY-LED, LIVE PROGRAM: Thursday, October 12, 2023
(All times eastern and conducted over Zoom)
| | |
| --- | --- |
| 7:45 am | Program registration |
| 8:00 am - 12:00 pm  | Certificate training program morning session |
| 12:00 pm | Break for lunch |
| 1:00 pm - 4:30 pm | Certificate training program afternoon session |
Course details
TARGET AUDIENCE

All healthcare professionals
 
---
SPECIFIC LEARNING MODULES
Home study


Advances in Precision Medicine  and Pharmacogenomics
The Pharmacist in Pharmacogenomics
A Review of Genetics and Nomenclature
Introduction to Medical Genetics
Principles of Genetic and Genomic Testing
Regulation and Reimbursement of Genetic and Genomic Testing
Ethical Issues Associated with Genomic & PGx Testing
Social Justice Issues Associated with Genomic & PGx Testing
Consent and Communication of Genetic Test Results
Pharmacogenetics Scientific Evidence to Clinical Guidelines
Cardiovascular  Pharmacogenomics
Psychiatric and Neurologic Pharmacogenomics
Pharmacogenomics in Internal Medicine
Pain Pharmacogenomics
Hypersensitivity and Skin Reactions
Oncology Pharmacogenomics
Leading innovators – success stories: Identifying Opportunities and Implementing Pharmacogenomics (PGx) into Community Pharmacy Practice
Leading innovators – success stories: A Pharmacogenomics-MTM model in Community pharmacy

Live program


Population variability and PGx clinical decision making
Leveraging PGx information resources
Predicting PGx phenotypes using real genetic data
Application to patient cases
Communicating with patients and providers
PGx implementation barriers
Implementation models and transitions of care


---
LEARNING OBJECTIVES
The pharmacist who completes the home-study and live components of this Pharmacogenomics Certificate Program should be able to:
Demonstrate understanding of basic genetic/genomic concepts and nomenclature
Describe advances in scientific knowledge and technology, which have led to innovations in personalized medicine
Identify the role of behavioral, social and environmental factors (lifestyle, socioeconomic factors, pollutants, among others) to modify or influence genetics in the manifestation of disease.
Compare and contrast different PGx study designs.
Identify drug- and disease-associated genetic variations that facilitate development of prevention and treatment strategies and appreciate there are differences in testing methodologies and are aware of the need to explore these differences in drug literature evaluation
Assess predisposition to disease and selection of drug treatment by using family history
Describe the role of genetic factors in maintaining health and preventing disease
Assess the difference between clinical diagnosis of disease and identification of genetic predisposition to disease (genetic variation is not strictly correlated with disease manifestation)
Recognize that pharmacogenomic testing may also reveal certain genetic disease predispositions (e.g., the Apo E4 polymorphism)
Demonstrate an understanding of how genetic variation in a large number of proteins influences pharmacokinetics and pharmacodynamics related to pharmacologic effect and drug response
Use online resources to assign haplotypes and predicted drug response phenotypes from genetic data.
Describe the influence (or lack thereof) of ethnicity in genetic polymorphisms and associations of polymorphisms with drug response
Recognize the availability of evidence-based guidelines that synthesize information relevant to genomic/pharmacogenomic tests and selection of drug therapy (e.g. Clinical pharmacogenomics implementation consortium)
Evaluate the availability of genetic testing under FDA, CLIA, and DTC regulations.
Evaluate PGx test reports through group-based activities and role-playing to demonstrate the PGx knowledge/skill-based competencies
Create a step-wise decision-making process for the integration of PGx with clinical variables known to impact PK/PD to make appropriate PGx-based recommendations for patients and populations.
List drugs/clinical situations where PGx testing is likely to be most useful clinically
Identify the potential physical and/or psychosocial benefits, limitations and risk of genomic/pharmacogenomic information for individuals, family members and communities, especially with genomic/pharmacogenomic tests that may relate to predisposition to disease
Describe the increased liability that accompanies access to detailed genomic patient information and maintain confidentiality and security
Define the cost, cost–effectiveness and reimbursement by insurers relevant to genomic or pharmacogenomic tests and test interpretation for patients and populations
Identify the need to refer a patient to a genetic specialist or genetic counselor
Describe proper documentation of test results in electronic patient record
Adopt a culturally sensitive and ethical approach to patient counseling regarding PGx test results
Demonstrate patient and provider communication about PGx testing and test results and counseling through group-based activities and role-playing
Evaluate about different business models to integrate PGx in various practice sites
Discuss different strategies to engage with local practitioners to optimize the delivery of PGx services prior to implementation
Demonstrate proficiency in different types of sample collection practices for PGx testing, review of safety procedures for handling biospecimens and proper mailing
 
---
DISCLAIMER STATEMENT
The information presented at this activity represents the views and opinions of the individual presenters, and does not constitute the opinion or endorsement of, or promotion by, the UPMC Center for Continuing Education in the Health Sciences, UPMC / University of Pittsburgh Medical Center or Affiliates and University of Pittsburgh School of Medicine.  Reasonable efforts have been taken intending for educational subject matter to be presented in a balanced, unbiased fashion and in compliance with regulatory requirements. However, each program attendee must always use his/her own personal and professional judgment when considering further application of this information, particularly as it may relate to patient diagnostic or treatment decisions including, without limitation, FDA-approved uses and any off-label uses.
Accreditation
ACCREDITATION
In support of improving patient care, the University of Pittsburgh is jointly accredited by the Accreditation Council for Continuing Medical Education (ACCME) and the Accreditation Council for Pharmacy Education (ACPE), and the American Nurses Credentialing Center (ANCC), to provide continuing education for the healthcare team.
Physician (CME)
The University of Pittsburgh designates this enduring material activity for a maximum of 1.0 AMA PRA Category 1 Credit[s]™. Physicians should claim only the credit commensurate with the extent of their participation in the activity.
Pharmacy (CPE)

This knowledge-based activity provides 1.0 contact hours of continuing pharmacy education credit.
Other health care professionals will receive a certificate of attendance confirming the number of contact hours commensurate with the extent of participation in this activity.  
---
HOW TO OBTAIN CONTINUING EDUCATION
Continuing education is available for the above learner groups. Learners must complete the full program (all modules, attain grades of 80% or higher on assessments, and participate in the live session) as well as submit necessary information to for submission of credit (e.g. profile information and evaluations) to receive continuing education credit. Partial credit will not be awarded.
 Various
 Instructor-led
 2.5h (live)
 Registered Provider
 $200